Regular price
$139.00 AUD
Sale price
$69.00 AUD
Unit price
per
Sale
Sold out
Fast Shipping Australia 🇦🇺 Wide!
The Mr Beast Feastables Gift Box, is the prefect gift for every Feastables Lover. 
Box includes:
1x Large Mr Beast Feastables Block
1x Large Chocolate Pack
1x Large Lollies Pack
5x Full Size Chocolate Bars
Large Assortment of Fun Size Chocolate
Large Assortment of Wrapped Lollies
Boxes will vary in choices of Selected Items. Items will be randomly selected from the following but not limited to:
Feastables: Quinoa Crunch, Almond, Original Chocolate, Milk Chocolate, Deez Nuts, Sea Salt, Crunch Chocolate, or similar.
Chocolate Pack: M&Ms original, m&ms Coconut, m&ms Crispy, Lifesavers lemon and white choc jellies, maltesers original, maltesers Desserts Black Forest Gateau, or similar.
Lollies Pack: Lifesavers stix, haribo gold bears, haribo Gummy Bears, haribo balla stixx, natural confectionery Co. Aussie adventure mix, allens Snakes alive, trolli brite crawlers, chupa chups Fizzy Drink, or similar. 
Chocolate Bars: Cadbury Dairy Milk, Cadbury Dream, Cadbury Dream Oreo, Cadbury Twirl, Cadbury Twirl Strawberry, Cadbury Caramilk, Cadbury Twirl Caramilk, Cadbury Flake, Mars bar, Mars bar honeycomb, Nestle mint aero, nestle Chokito, lindt lindor bar, Cadbury Boost, kitkat, kitkat milkybar, kitkat chunky, kitkat chunky milo, twix, Toblerone, or similar.
Fun Size Chocolate: Cadbury Dairy Milk fun size, Cadbury Dream fun size, Cadbury Twirl fun size, Cadbury Caramilk fun size, Cadbury Flake fun size, Mars bar fun size, Cadbury Boost fun size, kitkat fun size, twix fun size, Toblerone fun size, or similar.
Wrapped Lollies: Allens milko, allens red ripper, allens sherbie, allens minties, natural confectionery Co fruit chews, natural confectionery Co smoothie chews, mentos fruit, mentos mint, or similar.
We reserve the right to swap similar items of equal value in place of items listed, box will always be of the same value.
We ship to all of Australia for a flat rate. We can ship to Sydney nsw, Melbourne Vic, Brisbane qld, Howard tas, Canberra act, Darwin nt, adelaide sa, Perth wa. And every single other location in between. We also ship internationally to all countries, particularly New Zealand, UK, USA.
*All Products may include traces of nuts and gluten.
Share
View full details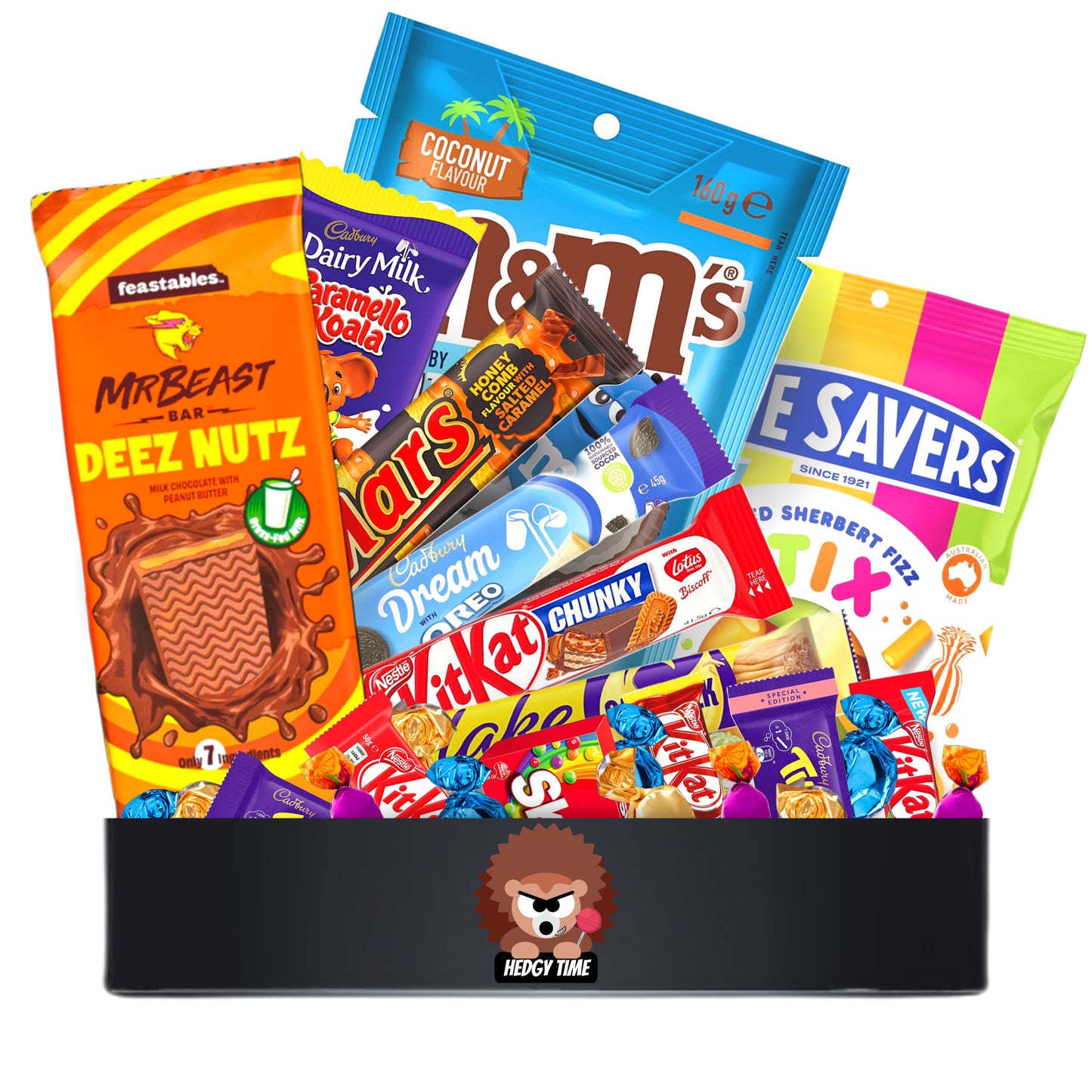 Mr Beast!!!!
First time trying the feastables, been looking everywhere for them! Thanks Hedgy Time for delivering early in Australia!!!!!
Categories: Gift Cards, Mystery Boxes, Gift Boxes, Rare Gift Box Hampers, Australian Treats to Send Overseas, Gift Box Hampers for Him, Gift Box Hampers for Her, Gift Box Hampers for Grandparents, Gift Box Hampers for Kids, Gift Box Hampers For Friends, Gift Box Hampers for Dad, Gift Box Hampers for Mum, Gift Box Hampers for Teens, Gifts Under $50, Hamper Ideas, Movie Night Gift Box Hampers, Snack Box Gift Hampers Adelaide, Snack Box Gift Hampers Sydney, Snack Box Gift Hampers Melbourne, Snack Box Gift Hampers Hobart, Snack Box Gift Hampers Brisbane, Snack Box Gift Hampers Darwin, Snack Box Gift Hampers Perth, Snack Box Gift Hampers Canberra, Treat Boxes